PIANO Learning SOFTWARE

EMEDIA PIANO AND KEYBOARD METHOD

A good piano lesson software is one that has an all-in-one approach consisting of lessons, theory etc. It is great if it also interacts and tells you what you did wrong- at least with regards to note reading- and even score you after each try! (For this you need to have an electronic keyboard or a digital piano connected via MIDI to a computer.)
Including all this and more, is a very affordable piano lesson software with a sound pedagogical approach, called eMedia Piano and Keyboard Method. This is a piano learning software that actually teaches you to sight read music better (!) as well as teaching you piano from scratch up to an intermediate level.
TIP: I have used Piano and Keyboard Method in my studio for sight-reading practice, and it is working very well. Read my review here: eMedia Piano and Keyboard Method Review
LEARN AND MASTER PIANO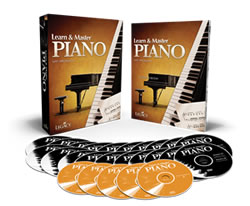 Another option instead of piano learning software, is a DVD lesson course package. One of the most recommended all-around piano lesson software and video courses today is Learn and Master Piano. I like Learn and Master Piano , for the high quality and varied lessons.

It is an interactive piano course package with DVD's, CD's and written instruction package. This ambitious program is demanding but provides you with many, many lessons. It will teach you a variety of styles, from Classical to Rock and is aimed at beginners through  late intermediate levels.
This online piano course is a great option when you want to teach yourself piano, but want at least some kind of professional guidance. 
PIANO FOR DUMMIES

The well knows "Dummies" series also have a fun piano learning software for beginners called "Piano for Dummies". It is very popular and has gotten really good reviews.
Check it out here: eMedia Piano For Dummies Deluxe.