Best Piano Gifts for Adults, Teachers & Music Lovers

This article may contain compensated links. Please read the disclosure for more info.
Are you a piano lover or do you have someone special in your life who adores the piano? If so, you're in the right place! I have handpicked some amazing piano gifts and ideas that are perfect for music lovers of all ages and skill levels.
Whether you're searching for a gift for a special piano teacher who has helped you on your musical journey, or you're looking for something to inspire and encourage an aspiring piano player, I have got you covered! From unique piano accessories to fun and inspiring piano-themed items, there is something for everyone here.
So, take a look at my carefully curated selection of piano gifts and ideas, and get ready to delight the piano lover in your life!
Piano Gifts for Music Lovers
Coffee Mugs
You can never go wrong with a coffee/tea mug, right? Here are some great gift ideas for the piano enthusiast!

Piano Clothing
Sometimes a soft package is the best idea!
Piano Gadgets
You think your piano player already has it all? Think again! Always room for another gadget...
Piano Wall Art
Make a bold statement for your love of music and place it on your walls!
Piano Jewelry
So cute, and so welcome as a gift!
Piano Ornaments
Christmas all year round! These ornaments are "evergreen" as can be!
Or, Give The Gift Of Piano Lessons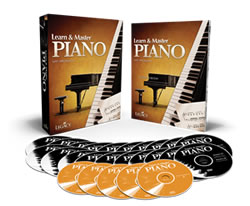 Learn & Master Piano - $149.00Retail Price: $249.00

You Save: $100.00